Swimming from Nice to Monaco and picking up trash at sea? This is possible with Watch the Sea!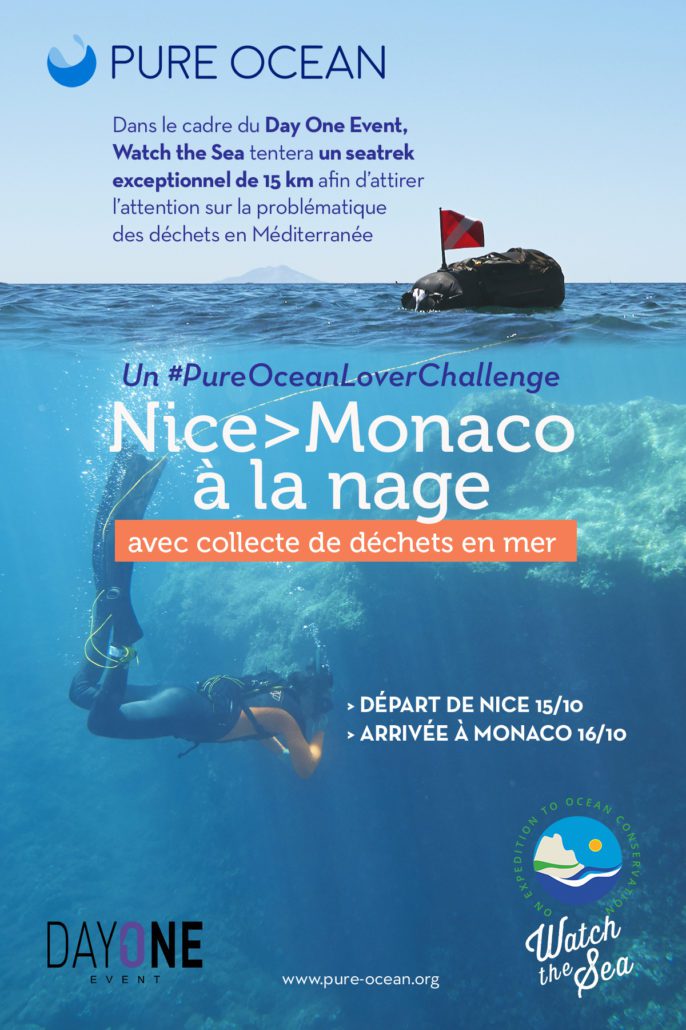 UPDATE !!
After about 20 km of swimming under the Mistral wind and a night under the stars, the Watch The Sea swimmers – Guillaume Barsse, Marie-Thérèse Ronal and Philippe Balch – collected and brought back to Monaco 22 kg of litter of any kind!
The Watch The Sea team was met in Monaco by a prestigious welcoming committee – Christian Estrosi, Mayor of Nice, Cyrielle Hariel, journalist & author, François-Alexandre Bertrand, CEO Platypus craft, Denis Jacquet founder & chairman DAY ONE and David Sussmann, Pure Ocean founder and President – to celebrate this feat!
Tuesday, October 15, 2019 a team of three swimmers from the Watch the Sea association, will leave the Baie des Anges in Nice at 12h to reach Monaco the next day.
Swimming between 15 and 20 kilometers at sea is not easy, but these committed swimmers will also collect all the trash they will find on their journey!
A partnership and a challenge to preserve the oceans
This challenge was conceived as part of the Day One Event and in partnership with Pure Ocean to raise awareness on a concrete action of marine ecosystems protection. Indeed, Watch the Sea is a sport association like no other. It offers seatrekking – an original concept combining extreme adventure and ocean protection. The cleaning of underwater and terrestrial coastal areas as well as the collection of information on the current state of the environment are an integral part of the responsible activities proposed by the association.
Day One Event: innovation in the spotlight in Nice and Monaco
A must-attend event and eponymous movement, the Day One Event brings together, during 3 days, opinion leaders, companies and experts around the impact of technologies in our societies. This event helps companies understand the ongoing changes and how they can positively impact the world of tomorrow. Upon their arrival on October 16, in the afternoon, the Watch the Sea team will join the President of Pure Ocean on the Day One stage to share his experience.
Indeed, it is very natural that Watch the Sea and Pure Ocean have come together around common missions and values ​​- including sporting challenges – hoping to raise awareness as much as possible about the protection of fragile marine ecosystems.