Besides financing research projects, Pure Ocean also promotes races and athletic challenges with the objective of raising awareness about the critical state of our oceans. The Race for Pure Ocean challenges are exceptional races, carried out by exceptional athletes, alone or in teams, selected to draw maximum attention to threatened ecosystems and highlight the importance of protecting them.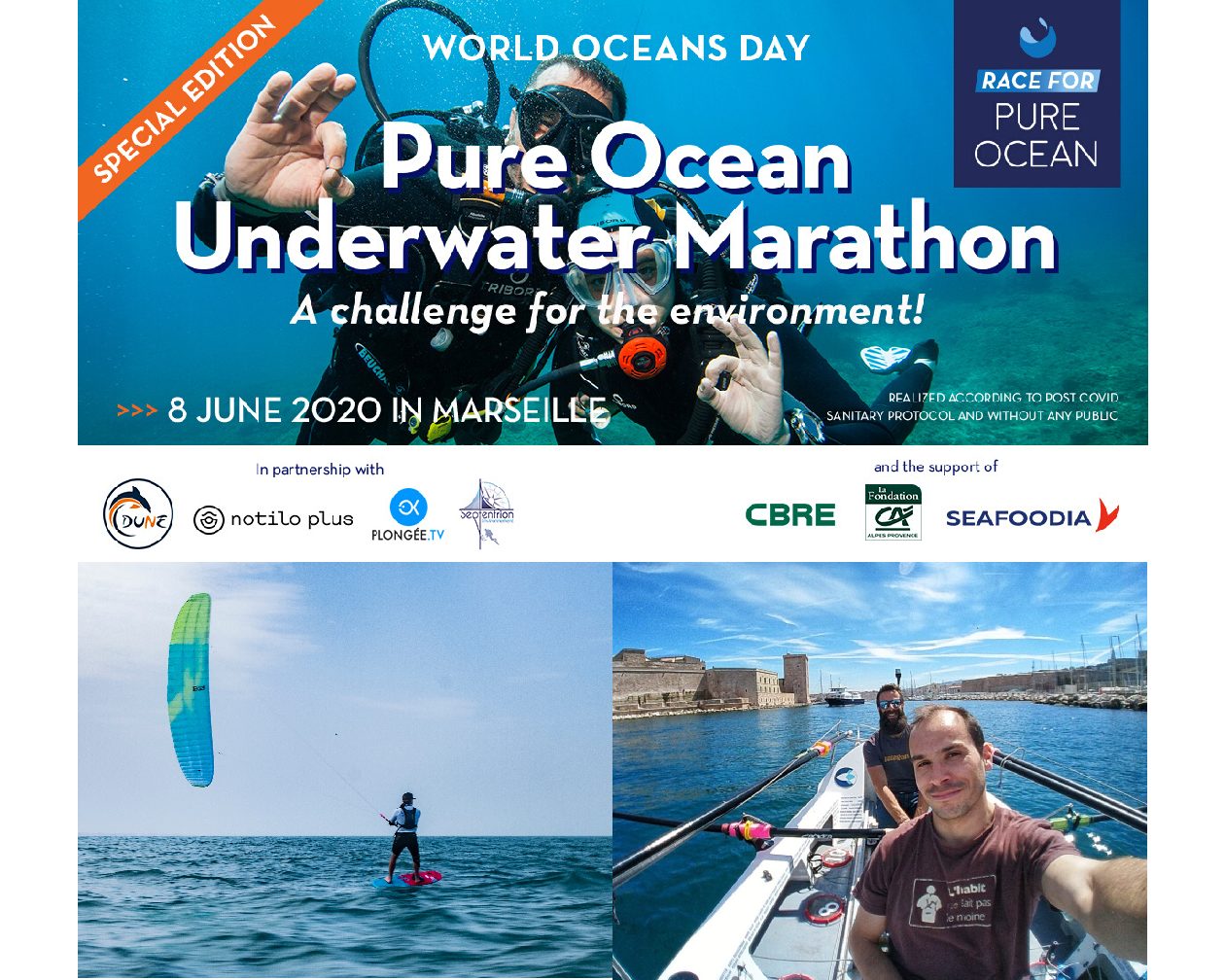 The Defi Pure Ocean – Route Saint Pierre Lorient
A mythical transat to raise awareness of the fragility of the ocean 
A 2150 nautical mile sailing transatlantic race St Pierre & Miquelon and Lorient? With the crazy idea of beating Eric Tabarly's mythical record by 10 days, 1 hour and 31 minutes?
This year Jean-Pierre Dick's JP54 and Morgane Poupon's Class 40 will be on the starting line in mid-July for the Pure Ocean Challenge – Route St Pierre Lorient.
David Sussmann, founding president of Pure Ocean, will take part in the challenge on The Kid, Jean-Pierre Dick's JP54. During this race, David will share his logbook with us. Each day, he will make a video on how it feels to be in the middle of a transat, but above all he will talk to us about the ocean, the threats that weigh on it and the role of science and researchers who find solutions for its protection every day!
This event will rase awareness of the importance of protecting the ocean and raise funds for research programs. See more.
Underwater Marathon: a race for the environment
The first underwater marathon combining a sporting challenge and awareness of the fragility of the ocean
Pure Ocean is organizing an underwater relay marathon on June 8, 2020, to raise awareness of the plight of the ocean. In the Marseille's bay, scuba divers, aquatic marathoners, will make you discover the Mediterranean sea.
This underwater marathon will be a mobilizing event, bringing together diving clubs, institutions and donors around an ambitious and unprecedented challenge.
0
Days
0
Hours
0
Minutes
0
Seconds
Crossing the Atlantic: 5000 kilometers on a rowboat
Lilian Dauzat and Guilhem Orlhac rise up to an extreme challenge and raise funds for our oceans.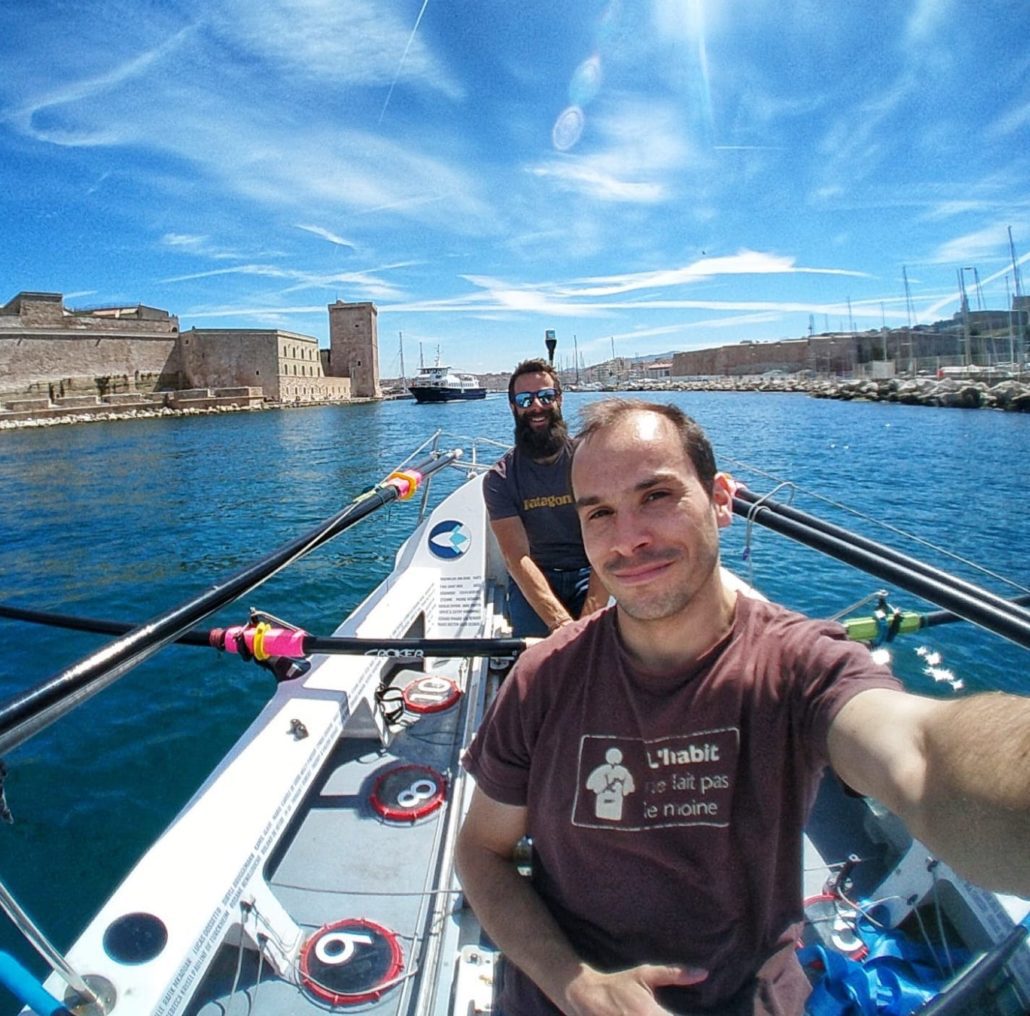 Unfortunately Lilian and Guilhem were unable to take up the challenge of the transatlantic race this year due to an injury to Guilhem's thumb a few days before the start. But the team is coming back stronger and has made "this crisis an opportunity to make an even better crossing". In mid-November, the duo is back on the adventure again with the aim of setting off from the Canary Islands and rowing to Martinique. An extraordinary challenge that requires exceptional physical and mental endurance: more climbers have climbed Everest than rowers have crossed an ocean. Their shared passion for extreme challenges and for the oceans led them to take up this challenge for the benefit of Pure Ocean.
These two experienced adventurers will travel 5,000 km in the Atlantic Ocean aboard a 7m long monohull. They will spend between 40 and 70 days in this boat in complete autonomy. The energy they will need for onboard instruments, lighting and communication will be generated by solar panels on the boat.
Despite the extreme weather conditions, physical fatigue and stress, we can count on our two champions to go all the way for our oceans!
0
Days
0
Hours
0
Minutes
0
Seconds
Prom'Swim: A 10 km race accross the
"

Baies des Anges

"

in Nice
Over 300 hundreds swimmers will participate in this incredible demanding race, the last event of the EDF Aqua Challenge. 
This year, during the Prom'Swim, all Nice will swim for the Oceans on Saturday, September 21st!
A 10 km open water swim: an exceptional distance, open to all, because amateur swimmers are also exceptional athletes. The go-ahead will be given at 9am from the Plage des Ponchettes.
Prom'Swim, the final event of the EDF Aqua Challenge, is dedicated to the oceans with the 10 km race labelled Race for Pure Ocean! Prom'Swim aims to be an eco-friendly event with a beach cleanup, waste sorting for recycling and the lowest impact on the environment possible. This year, straws, plastic plates & cutlery have been banned from the Race village.
A great opportunity to demonstrate their commitment to protecting the environment and raise funds to protect marine ecosystems with Pure Ocean.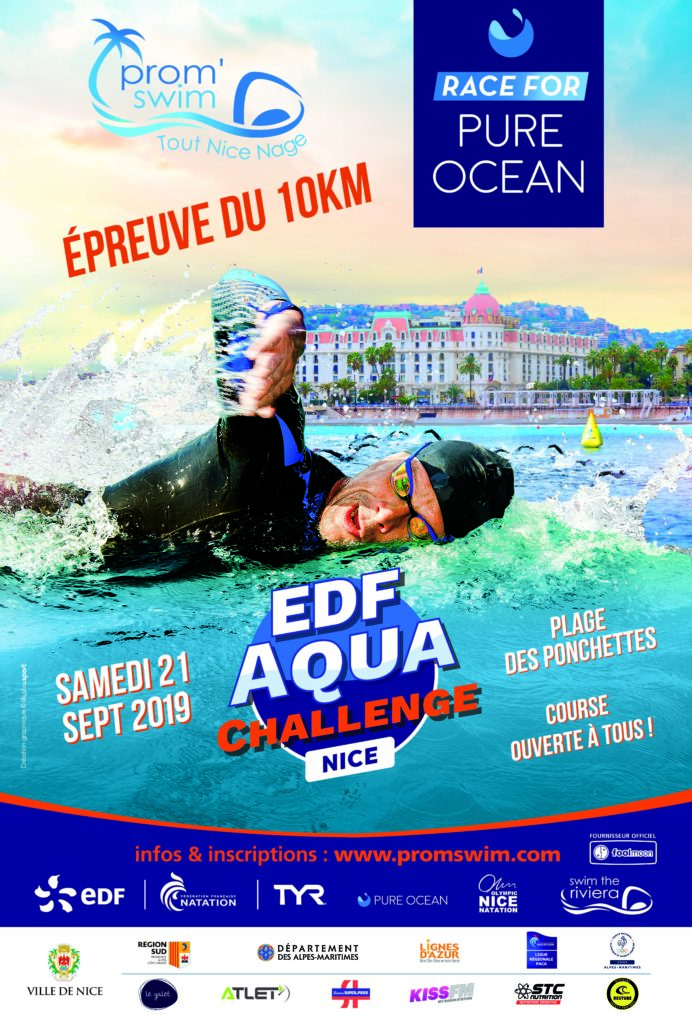 Kitesurfing along 100 kilometers for a new speed record
Alex Caizergues, kitespeed world record holder, commits to protecting our oceans and attempts to set a new record.
Alex Caizergues, 4 times kitespeed World champion and 3 times Champion of France, is the most prized kitesurfer in France. He currently holds the kitespeed world record: an average of 107,3 km/h on 500 meters. In August 2019, he will try to break his own record to affirm his commitment to oceans preservation. 
Ambassador of Pure Ocean, Alex is preparing a formidable challenge for the oceans. He has established a 100 km route between Essaouira and Agadir that he will travel in one tack, as fast as possible. 
For this first Race for Pure Ocean on the African continent, a new reference time has been set: 98.4 km 3:30! A record to beat in the years to come!
The
"

Solitaire URGO Le Figaro

"

race
Arthur Le Vaillant, a navigator committed to oceans protection.
In 2019, Arthur Le Vaillant took on the challenge of the Solitaire URGO Le Figaro race. He was pitting against 46 other skippers in this solo sailing race between Nantes and Dieppe, divided into 4 steps around the Channel and the Celtic Sea. Leyton France accompanied Arthur in this challenge, through which they both affirmed their common commitment to protecting the environment.
With this race, Leyton chose to show its support for Pure Ocean by joining the Race for Pure Ocean initiative, hoping to trigger awareness about current environmental issues.
Moreover, technologically innovative devices for environmental protection (sensor measuring air quality…) were installed on the boat in order to be tested in the field.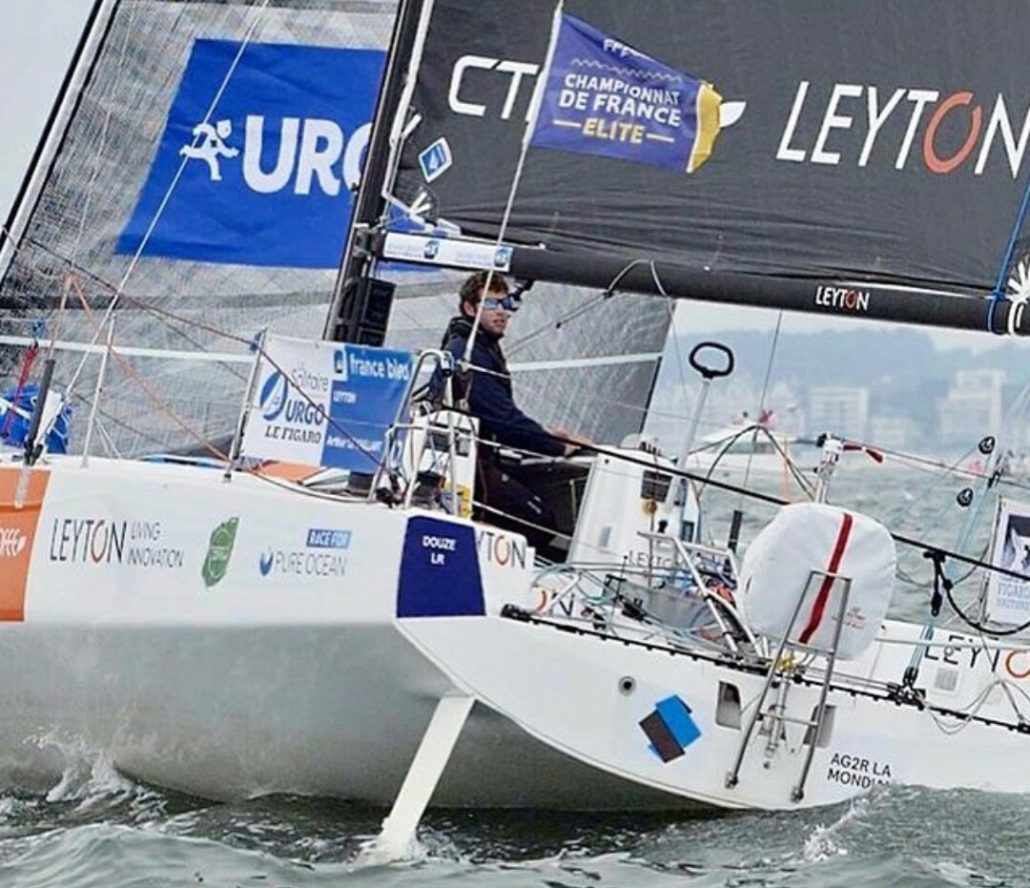 Enduroman, an extreme triathlon between London and Paris
Engaged athlete Brice Bonneviale takes on a challenge that measures up to the current environmental emergency.
As part of the Race for Pure Ocean initiative, in June 2019 Brice Bonneviale finished the Enduroman in 75h45mn, thus becoming the 37th person to complete this extreme triathlon. On June 22nd, he started his journey from Marble Arch, London, and ran the 14Okm to Dover in 16h55mn before diving into the waters of the Channel. Landing on French soil after defying the cold and the strong currents for 21h51mn, he got on his bike for the last 290km, which he traveled in 14h37mn. He reached the Arc de Triomphe in Paris at 11:45 p.m. on June 25th. His reason to go through with this: participating in the project carried out by Pure Ocean, that finances innovations destined to protect the oceans and their biodiversity.
An exceptional challenge to launch the Race for Pure Ocean series. By undertaking this athletic challenge that demands high levels of endurance and the ability to push one's limits, Brice wished to contribute to raise awareness about current environmental issues that are threatening not only our oceans, but the entirety of our planet's ecosystems. As part of this ecological commitment, while Brice's team followed him throughout the race, they picked up the rubbish they found along the way. Oceans lover, he also hoped to increase public understanding of the extent of the threats facing our oceans and put forward the solutions that exist to protect them. He therefore chose to use this challenge to raise funds for Pure Ocean.
Monte-Cristo by night challenge
Amateur swimmers participate in a night-time race in the Mediterranean Sea to show their commitment to the protection of our oceans.
On the 20th anniversary of the Monte-Cristo challenge, Pure Ocean joined the biggest open water swimming event in Europe. Around forty amateur athletes affirmed their support for the environmental cause by participating in this high level nocturnal athletic performance, the second episode of the Race for Pure Ocean series.
On June 21st, at night fall, the go-ahead was given at the Chateau d'If, one of Marseille's most emblematic monuments. The participants, all amateur swimmers, undertook a unique athletic performance while asserting their commitment to the protection of our oceans. With the Mediterranean Sea, maritime jewel of the South of France, as its background, this challenge allowed Pure Ocean's project to gain visibility and raised public awareness about the critical state of our oceans – and our planet more generally. Thanks to this event, 20 000€ were raised for Pure Ocean. These funds will be used to finance innovative projects to protect the oceans and their biodiversity.