A first shorter Underwater Marathon combining a sporting challenge and awareness of the fragility of the ocean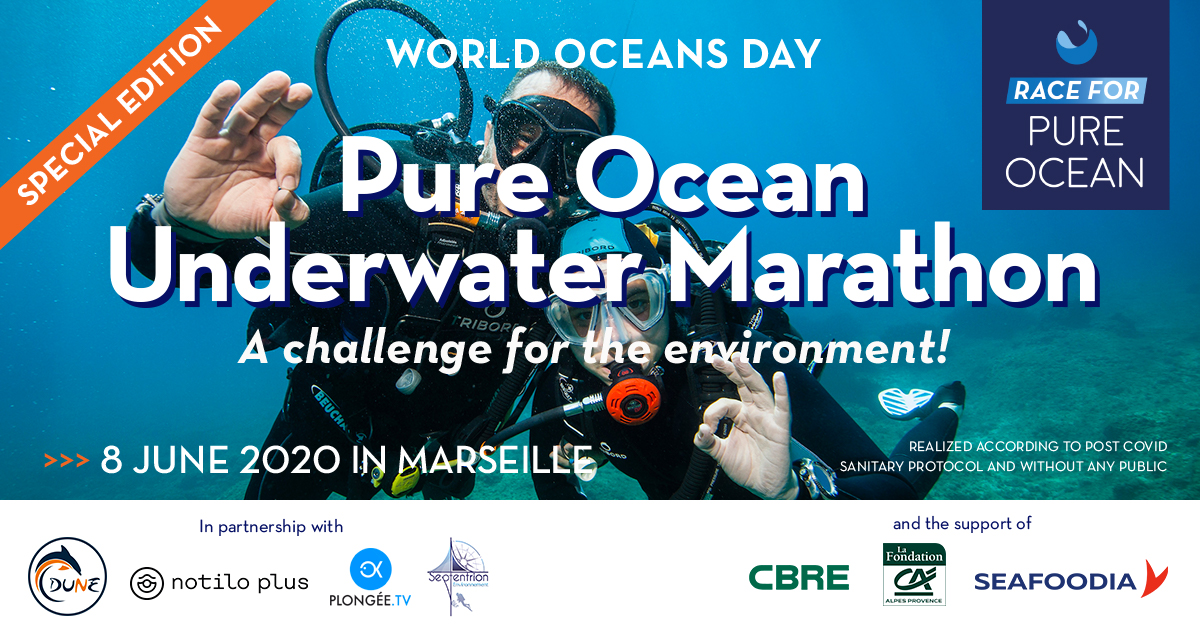 On the occasion of World Ocean Day, Pure Ocean organized an underwater marathon on June 8, 2020 with divers who took part in an underwater challenge at a depth of around 10 meters, held around the Frioul archipelago in Marseille. In the 18th century, the island of Ratonneau, one of the four islands in the archipelago, served as a place of quarantine during the plague.
On June 8, this iconic place served as a playground and natural setting for an ode to nature – a call for the preservation of the ocean, space of freedom and true lung of the planet. Organized in partnership with Dune, a reference in the world of diving, snorkeling and apnea trips,
the Pure Ocean Underwater Marathon, a world first, combined sporting challenge, commitment and innovation for the ocean. This special edition, produced in compliance with post-Covid sanitary measures and not welcoming audiences, was relayed on Facebook live on and underwater thanks to the technology and drones of Notilo Plus.
Thank you DUNE Marseille for the technical direction of this world premiere.
Thank you Notilo Plus for this technological feat and these incredible underwater live images thanks to iBubble camera.
Thanks to Olivier Oudon and PLONGÉE TV, for the flawless animation of this first edition.
Thanks to Septentrion Environnement for this superb floating media studio.
Thank you a lot to our sponsors CBRE, the Fondation d'Entreprise Crédit Agricole Provence Côte d'Azur & Seafoodia.
We hope that this Frioul Underwater Marathon is only the first in a long series. The ocean is our life insurance, let's continue to mobilize, raise awareness and raise funds for ocean research!
A program promoting regional stakeholders and initiatives
This Underwater Marathon is also an opportunity for Pure Ocean to promote partners contributing to the preservation of our environment. The Cromagnon, the former boat of Henri Cosquer, discoverer of the eponymous prehistoric cave, is today in the hands of the Septentrion Environment association. This historic and emblematic boat in the harbor of Marseille will serve as HQ for many meetings around four themes with, for each, a specific regional approach, namely:  
• Social innovation: diving, environmental watch and citizen science
Encounter with Laura Barth of the Septentrion Environnement association, creator of the Polaris platform and mobile application
• Technological innovation: underwater drones & artificial intelligence
Encounter with Benjamin Valtin from Notilo Plus company, which develops autonomous underwater systems optimized by Artificial Intelligence.
• Responsible aquaculture, short circuits and food
Encounter with Fanny and Aurélien, partners at the head of Provence Aquaculture, an aquaculture farm, organic and sustainable, located on the island of Pomègues.
• Citizen commitment: a freediver committed to the ocean
Meeting with Arnaud Jerald, freediver and world record holder bi-fins 108 meters deep & newly appointed ambassador of Pure Ocean.
Race for Pure Ocean – Underwater Marathon to be held during the World Ocean Day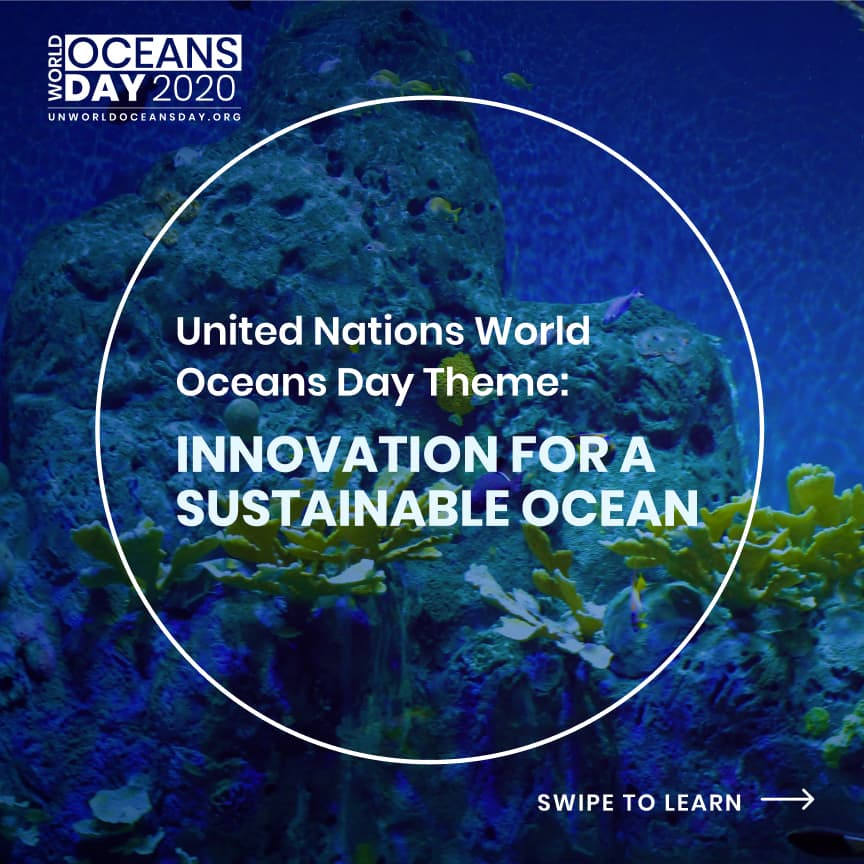 The ocean, the lungs of the planet, represents 70% of the Earth's surface but we know so little about it with only 10% explored to date. A veritable treasure that shelters an unparalleled diversity of living beings and a precious source of solutions, notably for healthcare, the ocean must be protected. Essential to life and the guarantor of a certain balance, it is today threatened by human activity.
The 2020 World Ocean Day theme is "innovation for a sustainable ocean", clearly in line with Pure Ocean's DNA of "innovation at the service of the ocean".
Organizing the Underwater Marathon during this day will obviously multiply its impact.