PURE OCEAN APPEARS IN THE FIGARO – ARTICLE 2 – LA GOUTTE BLEUE, THE CITIZEN WAVE THAT WILL PRESERVE THE OCEAN!
As the second edition of #LaGoutteBleue is launched, we are pleased to present you this dedicated article, published in Le Figaro on June 8th, on the occasion of the World Ocean Day.
The article traces the creation of #LaGoutteBleue, a movement that works to preserve the environment. It invites everyone to get involved and encourages companies to unite their teams with team building around litter picks.
More than a "bag", #LaGoutteBleue is a citizen movement capable of mobilising the greatest number of people for the preservation of the ocean.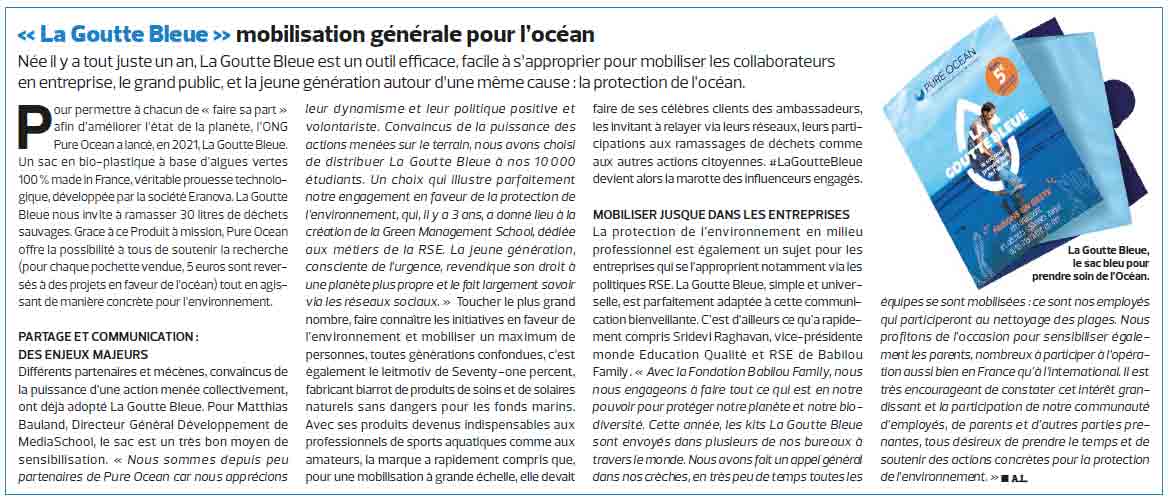 To enable everyone to "do their bit" to improve the state of the planet, the NGO Pure Ocean has launched, in 2021, La Goutte Bleue. A bio-plastic bag made from green algae, 100% made in France, a real technological feat, developed by the company Eranova. La Goutte Bleue invites us to collect 30 litres of wild waste. Thanks to this product with a mission, Pure Ocean
offers everyone the opportunity to support research (for each bag sold, 5 euros are donated to projects in favour of the ocean) while acting in a concrete way for the environment.
SHARING AND COMMUNICATION:
MAJOR ISSUES
Various partners and sponsors, convinced of the power of collective action, have already adopted La Goutte Bleue. For Matthias Bauland, Managing Director of MediaSchool, the bag is a very good way to raise awareness. "We have recently become partners of Pure Ocean because we appreciate their dynamism and their positive and proactive policy. Convinced of the power of the actions carried out in the field, we have chosen to distribute La Goutte Bleue to our 10,000 students. This choice perfectly illustrates our commitment to environmental protection, which three years ago led to the creation of the Green Management School, dedicated to CSR professions. The young generation, aware of the urgency, is claiming its right to a cleaner planet and is making this widely known via social networks. Reaching out to as many people as possible, publicising initiatives in favour of the environment and mobilising as many people as possible, all generations included, is also the leitmotiv of Seventy-one percent, a manufacturer of natural skincare and suncare products that are not harmful to the sea bed. With its products now indispensable to water sports professionals and amateurs alike, the brand quickly realised that, in order to mobilise on a large scale, it had to turn its famous customers into ambassadors, inviting them to relay their participation in waste collection and other civic actions via their networks. The #LaGoutteBleue then became a favourite among committed influencers.
MOBILISING EVEN IN COMPANIES
Environmental protection in the workplace is also a subject for companies, which are taking it on board.
companies, which are taking it on board, particularly through CSR policies. The Blue Drop, simple and universal, is perfectly adapted to this benevolent communication. This is what Sridevi Raghavan, Vice President of Education, Quality and CSR at Babilou Family, quickly understood. "With the Babilou Family Foundation, we are committed to doing everything in our power to protect our planet and our biodiversity. This year, La Goutte Bleue kits are being sent to several of our offices around the world. We made a general appeal in our day care centres, and in a very short time all the teams were mobilised: it is our employees who will participate in the beach clean-up. We are also taking the opportunity to raise awareness among parents, many of whom are taking part in the operation both in France and internationally. It is very encouraging to see the growing interest and participation of our community of employees, parents and other stakeholders, all willing to take the time and support concrete actions to protect the environment.
Π VIEWPOINT David Sussmann PRESIDENT PURE OCEAN and CEO SEAFOODIA