A LOOK BACK AT THE EXCEPTIONAL EVENING OF THE PURE OCEAN 2022 GALA
When the #PureOceansLovers mobilize for the protection of the ocean!
On June 8th, on the occasion of the World Ocean Day, Pure Ocean organised its 2022 Ocean Gala.
Following a prestigious dinner, an auction was held and raised more than 75.000euros! The funds raised will be used to finance oceanic scientific research.
Judging by the smiles on everyone's faces, everyone seemed to have had a great time and was delighted to have worked for the protection of the ocean.
Pure Ocean Fund would like to thank all the people involved in the success of this second edition of the Pure Ocean Gala and invites you to discover the pictures of the evening a little further down on this page!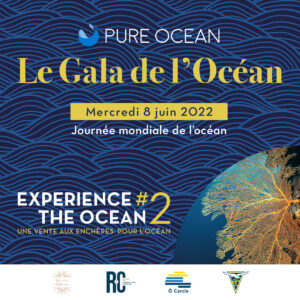 Acknowledgements
Le Cercle des Nageurs de Marseille, Paul Leccia, Jean Castelli, Morgane Mascret, Isola Virgilio • Karine Ancelin, Restaurant Ô Cercle • Virgil Aubriot • Marie Bolou • Yonathan Chamla et Romain Rudondy, Maison R&C • Champagne Pommery • Stéphane Dandoy, Hôtel Anova • Bruno Fabre • Édouard et Richard Frojo, Maison Frojo • Fabio Gennari • Ludovic Gérard et Nicolas Brossay, Solenn for Pure Ocean • Arnaud Jerald et le Club du CIPA • Anthony Lacanaud, Musée subaquatique de Marseille • Laurena Décoratrice • Amaury Lavernhe • Laura Lhuillier • Anne Vouland, Lulli sur la Toile et Vanessa Bruno • Florent Manaudou, Hubert Montcoudiol, CNM & stade nautique d'Antibes • Christophe Margnat, Beuchat • Ambre Papazian et le Pôle France Voile de Marseille • Pierre Porcher et la collection Porcher Antiquités • Sophie Salerno, Ode à la Méditerranée • SVR Lazartigue • Mélanie Uzan, Claude Ravel et Christine Cailhol, Course Marseille-Cassis.