PREMIUM PARTNER: THE RHF GROUP LEADERS ARE COMMITED TO THE PLANET
MEDIMAT is an economic player in the sale, repair and rental of recycling equipment, so they naturally go for a policy of actions in favor of the protection of the environment. Valérie and Pascal Ragois, leaders of RHF group – MEDIMAT and NOVA Groupe – trusted us and joined the Pure Ocean adventure in early 2019.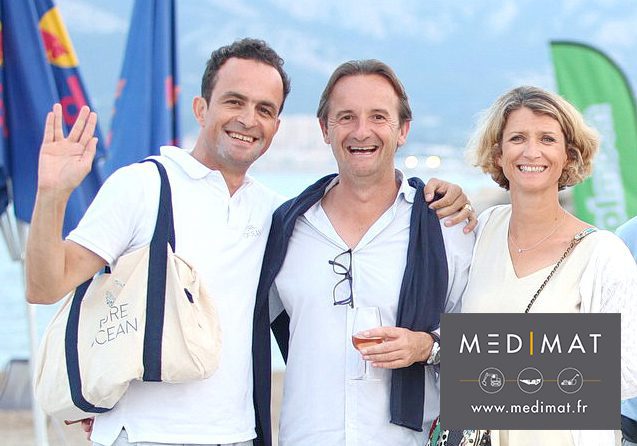 Valérie & Pascal Ragois standing next to Thomas de Williencourt ©Lotti Pix 2019
"Which planet will we transmit to our children?
How to become an actor and not a spectator?
To these 2 questions we asked, it was clear to me and my husband that, as business leaders, we had a moral duty towards future generations, and that we had the means to act. "
Valérie & Pascal Ragois
A few words about MEDIMAT ?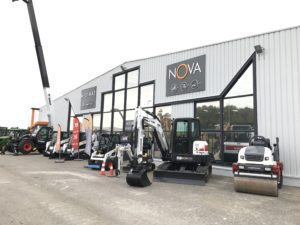 We are at the head of companies where service and quality, and human relations at the same time, are shared values:
NOVA Groupe, the leading regional player in the agricultural, green spaces and public works sectors.
Et MEDIMAT, specialized in the BTP and environment sectors.
MEDIMAT, with 30 years of experience, is one of the economic players on the national and regional level, with 6 agencies in Occitanie, sales, repair and rental of recycling equipment (plastic, waste, cardboard etc.) crushing / screening, from brands like:
METSO M & S and METSO METAL RECYCLING all over France, TEREX FINLAY, TEREX ECOTEC, SCREEN POD, ECOSTAR, TECLINEA, RAM ETC … and construction equipment of brands like Liebherr, Bell, ATLAScopco, Thwaites ETC ..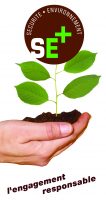 What are the actions of MEDIMAT in favor of the environment?
Today we are committed to taking concrete actions for the environment.
Our first action was to engage MEDIMAT with Pure Ocean by helping to fund research, to find solutions to pollution, the disappearance of fauna and flora in the oceans.
As part of CSR, we are also working on the implementation of zero waste within MEDIMAT and NOVA Group.
Since 2013, MEDIMAT has obtained the SE + label, a guarantee of quality for our customers in terms of safety and the environment.
A conclusion ?
"The one who moves a mountain starts by moving small stones." Confucius.