With our three new recruits, Pure Ocean has consolidated its team and is now under full sail!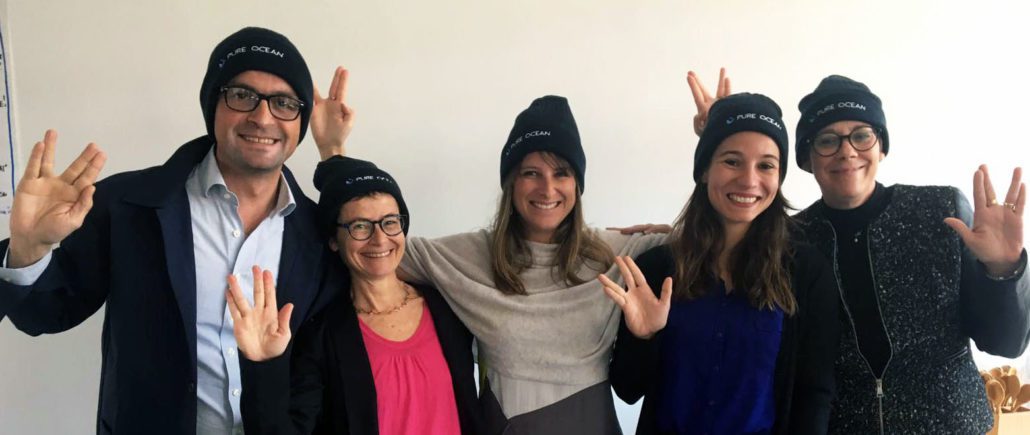 From left to right: Thomas, Gwen, Deborah, Laura, Stephanie
Here's a little introduction to the team:
Laura Delaye is in charge of general coordination of the fund. After a master's degree in Environmental Science and several experiences in sustainable development, Laura joined Pure Ocean at the beginning of the adventure. Surfer, runner & nature lover.
Favorite spot : San Ciprianu, near Porto Vecchio, Corsica
Deborah Pardo, PhD in Population Ecology, lecturer and enthusiastic scientist, is responsible for international calls for projects and coordination with the Scientific Committee. Deborah worked previously at the British Antarctic Survey in Cambridge on the impact of climate change and fishing on the decline of albatross populations. She has participated in numerous missions in Antarctica. Multi-tasker, energetic & passionate.
Favorite spot : Sub-Antarctic Islands.  
In December, Pure Ocean welcomed Gwen Lechat, donor relations specialist, and Stephanie Lerner, seasoned communications specialist.

Gwen is in charge of sponsorship and fundraising actions. A professional life dedicated to marketing and communication of general interest naturally led Gwen to mobilize her skills at the service of her first love: the oceans. Originally from Brittany, Gwen spent her childhood with a view on the fabulous Glénan Islands. Eco-warrior, optimist & determined.
Favorite spot: Pointe de Kersécol, Finistère

Stephanie manages external communications and public relations at Pure Ocean. Franco-American, she spent her childhood travelling between West Africa and the US. After a long career in art direction and advertising, she decided to use her skills to contribute to helping save the oceans.Beach debris artist, world citizen, ocean lover. 
Favorite spot: Aghia Theodoti, Ios Island, Cyclades.

In March, Thomas de Williencourt was appointed Director of Pure Ocean. With his past experience in public interest initiatives, notably in apiculture and sustainable agriculture, Thomas will be developping partnerships with key players who are mobilized on ocean health and preservation, at local, national and international levels. A committed entrepreneur, Thomas is building an international network of like-minded business people – the «Pure Ocean Lovers» – entrepreneurs who love their planet and want to take action too. Fast-moving, fast-thinking, eco-driven.
Favorite spot:  Malmousque in Marseille & Golfe du Morbihan
https://www.pure-ocean.org/wp-content/uploads/2017/09/LOGO-FINAL-01.png
0
0
Pureocean
https://www.pure-ocean.org/wp-content/uploads/2017/09/LOGO-FINAL-01.png
Pureocean
2019-05-13 14:42:26
2019-05-29 14:30:44
PURE OCEAN TEAM