An exceptional auction for the Ocean!
Treat yourself to an exceptional experience:
A day of initiation to freediving with the world record holder Arnaud Jerald.
An underwater exploration with Guillaume Ruoppolo
A dive with the great underwater filmmaker René Heuzey…
But also :
Exceptional sports objects
Marine antiques
A must-attend event for all committed enthusiasts to live online from 21st to 28th March on Drouot Online. All profits will be donated to the Pure Ocean Foundation and will be used to finance scientific research for the protection of the Ocean.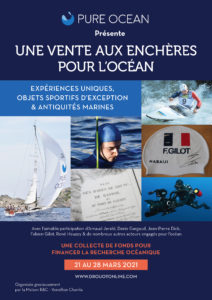 Consult the catalogue below
Visit the drout online website from 21 March.
Charity auction organised free of charge by Maison R&C – Yonathan Chamla & Romain Rudondy