Marine

fever

in the

North

Atlantic
The 4 hottest days on record were…the week of July 10th. And if the continents are recording record-breaking heat, it's also the ocean that's burning!   
The North Atlantic is currently experiencing a category 5 (out of 5) marine heatwave. Temperatures at the ocean's surface are 4 to 6°C above normal, absolute records since measurements began in 1870.  
The cause? A combination of meteorological variables (peak air temperatures, weak winds), coupled with ever-higher average surface water temperatures.  
The consequences for marine life are massive, and as yet poorly described in deep-sea areas. Deaths of fish and marine invertebrates have been reported, and major repercussions are expected for coastal communities and economies. 

 
This excess ocean energy feeds extreme weather phenomena such as cyclones, making them both more frequent and more devastating. At the end of June, "Bret" was the first tropical storm to form in the mid-Atlantic (well to the east of the Caribbean), and the first to form so early in the season. 
Our greenhouse gas emissions are taking mankind and the rest of biodiversity down previously unknown paths. While the ocean and marine life are our best climate guarantors, they are the main victims of the consequences of certain human activities.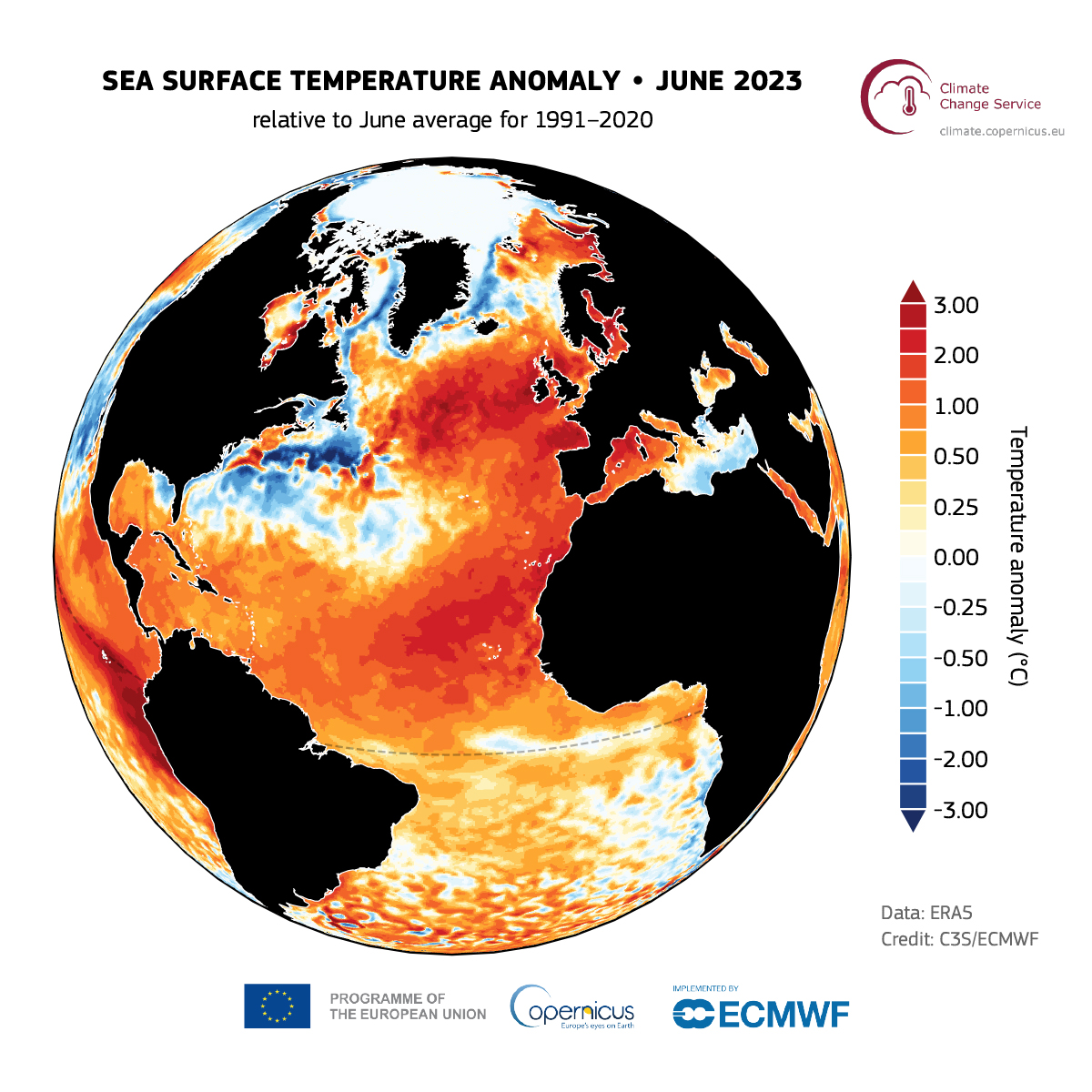 It's high time we took action for the climate and the ocean, and the solutions already exist: 
Plan the end of our dependence on fossil fuels and urgently decarbonize transport and industry.
Create marine protected areas (MPAs) with a level of protection in line with international decisions. In France, 33% of maritime territory is officially classified as an MPA, but only 1.6% benefits from an effective level of protection.
Sanctuarize the ocean floor – the planet's largest carbon reservoirs, with a largely unknown biodiversity, and directly threatened by the industrial extraction of the mineral resources they contain.
Data source: ERA5. Credit: Copernicus Climate Change Service/ECMWF.