Activity Report 2020/2021
Pure Ocean's Activity Report 2020/21 is now available for download.
The second accounting year of the Pure Ocean Endowment Fund began with nationwide lock down, which was just the start of a world-wide health crisis. Faced with this exceptional situation, Pure Ocean had to adapt throughout the year, sometimes even in real time. Despite this unprecedented context, the Fund was able to count on the support of its partners and was thus able to maintain a high level of resources. Between 2018 and 2020, the number of applications for the call for projects has more than doubled, and the Fund continues to increase its notoriety: scientists from all over the world are flocking to respond to our calls for projects. At the start of 2021, four new projects were selected, bringing the number of scientific projects supported by Pure Ocean to 10. In this great dynamic, the Pure Ocean team is approaching this new year of adventures and projects with serenity and determination. Once again, we thank our partners for their daily commitment.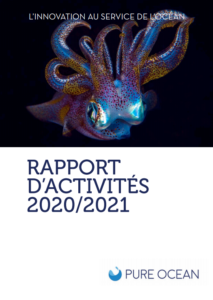 Download our Activity Report